It's funny that in all the time I've lived in California, I've barely known any of my neighbors. Perhaps it's been my fault for being anti-social, but it just seems like I always end up living places where neighbors pretty much keep to themselves. Apparently, that's no longer the case. Following our Halloween fun with the neighbors (and, yes, the caramel covered apples were delicious), we've had yet another enjoyable gathering with some more neighbors.
Just after running some errands on Sunday, we heard a knock at the door, and met Bob, who apparently lives diagonally across the street. He welcomed us to the neighborhood and then let us know that he's an amateur astronomer, and that he was planning to set up a telescope in his driveway later that evening to check out the Holmes Comet that's been in the news lately. We agreed to come by around 7:30, and just as we were getting ready to go he knocked again to let us know he was set up (we were surprised that he bothered to come remind us, as he needed to climb up our fairly steep driveway).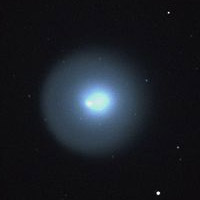 It was a pretty big telescope, and the view looked pretty much like the picture above (though, a little fuzzier). It was pretty cool. The next door neighbors were there, but we also got to meet a few other neighbors and find out a little bit more about the neighborhood. We thought our driveway-mate Frances had been here a while, since she's been living next door for about 30 years, but Bob's got her beat by another 10 years. He pointed out that there were two others in the neighborhood who have been here longer. It seems like the neighborhood mix is basically people who have been here a super long time and then a bunch of young families who moved to the neighborhood in the last five years. No matter what, feels nice to be welcomed in to the neighborhood.