Okay, okay. I'll admit that it will never live up to the craziest bachelor party of all time, but it wasn't bad. Dennis did a nice job getting us some fantastic seats, right next to the Yankee bullpen, at AT&T park to catch the Yankees/Giants game on Saturday.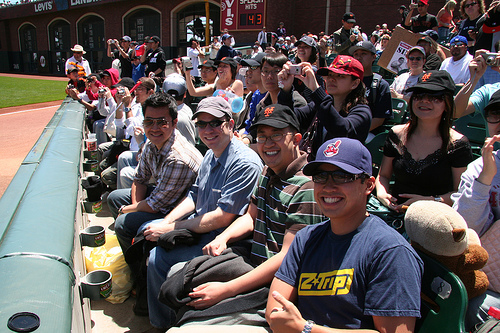 If you notice a huge crew of Taiwanese folks behind us snapping photos with their cameras, it wasn't because of us, but because Taiwanese Yankee pitcher Chien-Ming Wang was warming up. As you may (or may not) know, Wang has been a huge success for the Yankees, and the first really successful Taiwanese professional American baseball player. Also, San Francisco has a huge Taiwanese community who
all wanted to see him play
. Apparently, he had more requests for tickets than at any other park, and the local Taiwanese media even
gave him flowers
. Of course, since we're right in front of the bullpen, this is what they were taking photos of: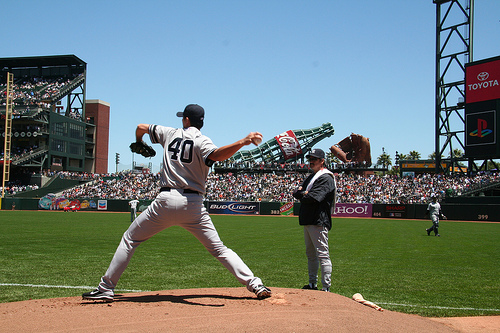 Yeah, so we were pretty close. The Taiwanese fans were screaming at Wang (apparently telling him to speak some Mandarin, but he basically went about his workout). As soon as the game started, all of them disappeared, so apparently they just came down to our section to watch him warmup. The game started off okay. Wang didn't have great control, but managed to get the Giants (losers of 9 in a row) out pretty easily. The Yankee hitters on the other hand racked up a bunch of hits, but had trouble driving in runs — but did take an early lead. Seemed like we'd cruise through the game.
There was some early excitement. On a terrible call at first we got to see Giants' manager Bruce Bochy tossed from the game (Dennis did an amazing job catching the ump tossing Bochy). I'll admit the call was awful, even though it went in the Yankees' favor.

Dennis wanted two things out of the game: a foul ball he could catch and a "close" game so that we'd get to see a bunch of pitchers warming up in front of us (specifically, we were hoping for Mariano Rivera, the greatest closer of all time…).
On the foul ball front, even though he was ready, no luck for Dennis: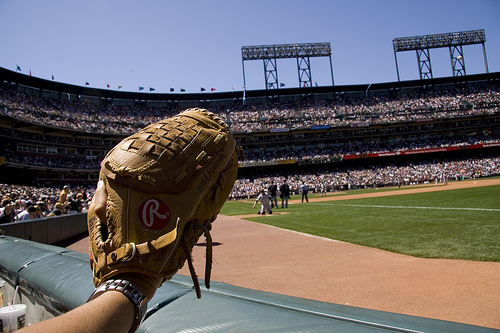 But for keeping the game close, there was plenty of luck. Turns out that Wang had a blister and was bleeding on his finger, so he started giving up hits… then runs… and come the 7th inning, the bullpen got crazy busy and we realized just how close we were. With lefty side-armer Mike Myers throwing beside Brian Bruney (the taunting Giants fans referred to him as "Biff") it really felt like Myers left arm was going to hit me in the head every time he threw.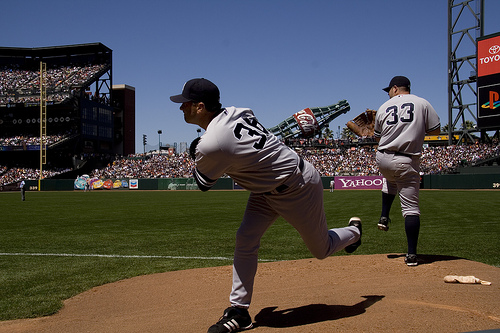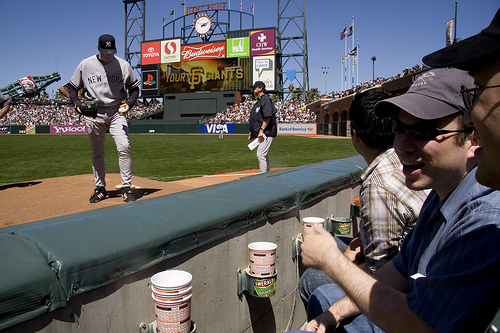 Of course, both were called in by Torre (who still seems to have a total blind spot on how to run a bullpen — you'd think someone would sit him down and explain things to him by now) and both screwed up and suddenly the Yankees were losing. A-Rod hit a solo shot to deeeeeep center to tie up the game in the 9th and it was off to extra innings, at which point we got to see the entire Yankee bullpen… including Mariano: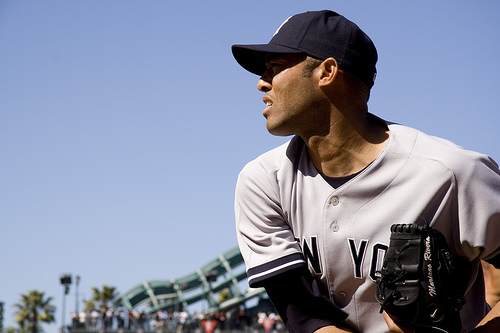 Earlier in the game, Dennis had asked me whether or not Roger Clemens had made the trip (there had been a big stink about how his new contract allows him to skip roadtrips where he's not starting). I'd seen over at
Pete Abraham's blog
that he did, indeed make the trip (after telling reporters "It's none of your business" when they asked him earlier in the week). So we joked about how awesome it would be to see Clemens warm up. As the game wore on, we kept joking about it, and when The Rocket popped out of the dugout (he's easily recognizable) we were both amazed. He only threw a few pitches before giving up, but it was still pretty cool.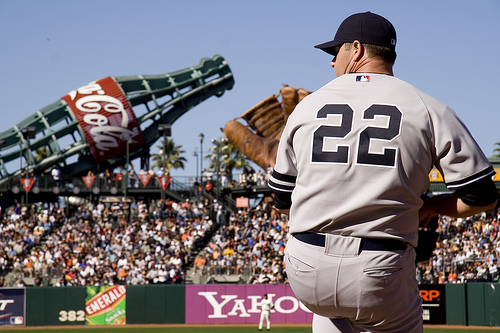 Anyway, Torre, continuing to manage badly, somehow let Scott Proctor hit in the top of the 13th even though he'd already pitched two innings. He maybe called "Everyday Scotty" by some bloggers, but that doesn't mean he can (a) pitch more than a couple innings at a time or (b)
hit a major league fastball
. He struck out pretty quickly and then coughed up the game in the bottom of the inning.
Other than that… it was great. Dennis wrote up his own take on the game. And you can see a lot more of his pictures (they're all his pictures) over at Flickr.
I had been worried about what we would do between the game and dinner, but with the game going so long, we just had time to go back to Dennis' place and play some Wii while waiting for the rest of the (mostly) Cornell gang to show up. We also discovered that we were on TV a few times (Dennis TiVo'd the game). Yes, that's us, barely recognizable next to Miguel Cairo's thigh.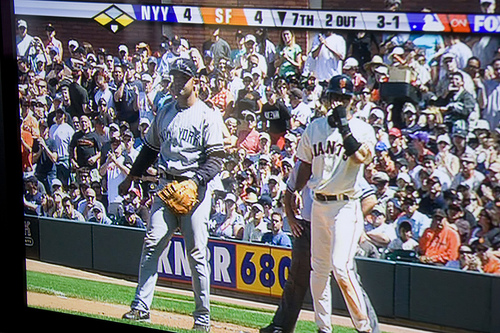 After that, we headed out for some Brazilian BBQ, which was fun (I think there are some pictures of that as well somewhere) and then hit up a few bars before heading home. All in all, quite the bachelor party.
Thanks to Dennis for organizing, and to MikeHo, Andy, Paul, Dan, Kai, Hersh and Teck for coming out.