On my mother's side, I have 5 cousins, making a total of six of us. From oldest (my sister) to youngest (my cousin Steven), there's only 7 years difference. We all grew up in and around New York City, and we spent plenty of time together. We're extremely close to this day (even though I've been 3,000 miles away for the past 10 years). The six of us all come from three sisters who were born to my grandparents in the 1940s: my mom, my aunt Carol (my mom's identical twin sister) and my aunt Betty. And, of course, at the top of the pyramid are my grandparents, Rose & Sid, who really have kept this entire extended family so close together all these years: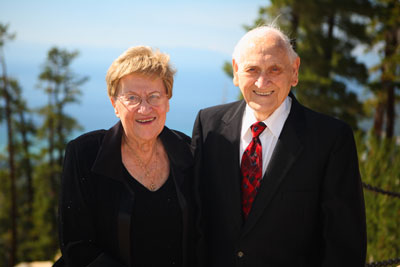 In about a month, my grandmother will turn 90. Three years ago, when my grandfather turned 90, the whole extended family got together for a big birthday party. The six of us cousins all wrote up stories about Grandpa Sid and what he meant to us. Now it's Grandma Rose's turn. Even though her birthday isn't until the end of July, the only time all of us could get together was in the middle of June. We had a wonderful brunch, with the entire extended family — and the six of us cousins all wrote up our stories and read them outloud… Of course, that was just to our extended family listening to it. I figured why not share my thoughts with the rest of the world as well. I'll email my cousins as well, to see if they want to add their thoughts in the comments. Anyway, here's what I wrote (and read) for my Grandma Rose at her 90th birthday party:
---
Three years ago, when we all got together to celebrate Grandpa's 90th birthday, I told Grandma she had to wait for her turn to hear stories about herself. I needed to do so, because I realized how difficult it was to think of Grandpa stories that didn't have Grandma as a central figure – oftentimes speaking *for* Grandpa, before he was allowed to get out the words.
And, now, in thinking about what stories to tell about Grandma, I realize, again, how much Grandpa figures into every one of those stories – but also just how much a central figure Grandma has been in this entire family's lives (again, oftentimes speaking for all of us, before we can get out the words!). When we look back on this family, it really is amazing how close we've all been for so many years, no matter where our paths have taken us (both literally and figuratively). And, while it may have seemed easy or natural for this to happen, I think we all have to admit that it's been Grandma's ever-steady hand (occasionally mixed with a good-natured scolding or question about when we're getting married/having kids/etc.) that hasn't just kept this extended family so close-knit, but also instilled all of us with our moral compass, our passion for life and our ability to have fun and laugh so frequently.
I tried to think of a story about Grandma that not everyone would know – and while I came up with a few, one of my favorites was the time I called a few years back, and Grandma answered the phone out-of-breath. She apologized, and explained: "I turned on the TV, and there's a special on about Elvis Presley, so I started dancing."
Yes, Grandma is a closet Elvis fan.
"Ah, what can I say?" She'll say. "Let everyone just stay well. That's all I want. That's all."
We've all heard her say that phrase, perhaps a thousand times – and it's become Grandma's mantra. But, that's really not all. Grandma doesn't just want us all to be well. She wants us all to be happy and find meaning in life. She knows how to make all of us laugh — and she takes a keen interest in what each of us is interested in, even if it's beyond her scope of knowledge and experience.
For years, every single time I called to speak to her, she would let me know that her and Grandpa sat down at the WebTV every evening, after the 11 o'clock news, and before going to bed, to log onto Techdirt, and read what I'd written about that day.
"I don't understand half of it — or sometimes all of it — but I read it."
Sometimes she'd engage me: "So what you're really saying is…" and it would always be exactly right, sometimes giving me new ways of thinking about things.
I got to see this nightly ritual first hand a few years back, when I was in Florida for a conference. As bedtime rolled around, Grandma and Grandpa came out to the terrace, turned on the TV. Grandma sat towards the back, in her comfy recliner, with the TV tray table and the wireless WebTV keyboard. Grandpa in the front, with the remote control. The two of them, working as a team, would log in, check their email, and then call up Techdirt from a list of bookmarks. Grandma would read each post outloud, and when she reached the bottom, command Grandpa to "Scroll!" with the remote.
Even with me sitting there, Grandma made sure to read every last post, and comment on about half of them
A few years later, the first time I brought (a very nervous) Sunnia to meet Grandma and Grandpa, Grandma immediately made her feel not just at ease, but as if she were already one of the family. The two of them bonded instantly – sometimes to my own detriment. Early on, she heard Sunnia gently scold me for something I had done (or, more likely, not done), and immediately took her side – and later passed on a list of her most important lessons from 60+ years of marriage. There were two that stood out:
Always kiss each other before going to sleep
The woman is always right
Sunnia reminds me of this constantly. Any time I disagree with her, she chides: "Remember what your grandmother said!"
And, so we do, always, remember what Grandma says. Grandma. Happy 90th birthday, to the glue that holds this family together and gives us all so much joy and life. And, let us all remember: Grandma is always right.