There's a radio station here in San Francisco called KFOG that puts on a big concert, called Kaboom on Piers 30 and 32 every year, which is followed up by a big fireworks display synchronized to music. Sunnia and I try to go pretty much every year — especially since it's free. Except… this year, it wasn't free at all. Apparently the costs have gone up, so they decided to charge everyone $10 to go, which really isn't that bad a deal, and actually could cut down on the crowds, which might be nice. However, before we even had a chance to make that decision, Byung and Greg invited us to skip the crowds and watch the fireworks from the comfort of their sailboat out on the bay. Cool!
Sunnia cooked up a strawberry-rhubarb cobbler and we drove up to Emeryville (where they keep their boat). We were a bit late and then got lost in the parking lot (don't ask) trying to find the right dock. However, we eventually got there, and joined the crew of folks on the boat, which included 8 other adults and 5 children (I think all under the age of 6…). 6 of those 8 adults were all sailors, so Sunnia and I went below deck to get out of the way and hung out with Byung (and ate too much food) while we motored out. When I was a kid, I went sailing a few times with my Dad and Wil (on a much, much smaller sailboat), but it's been at least 20 years since I've been on a sailboat, so it took a little getting used to the motion.
It had been crazy windy and cold (as the weatherman said on the radio "unseasonably cold and blustery") all day long, and when I'd been walking Sugar earlier, I got worried about just how icy cold it would be on the water. And, indeed, even though I came bundled up in four layers, I was told I probably wasn't wearing enough. So I stayed below deck on most of the ride out — and as we left the dock, the water seemed pretty choppy, so the ride was a bit bouncy. However, as we passed under the Bay Bridge (both the new and old part), amazingly the wind went away and it actually became pretty nice out, so we popped out to see the view. We motored over to McCovey Cove, with a nice view of AT&T Park and then anchored to wait for the show. Apparently someone was supposed to bring a boombox so we could hear the concert and the music synchronized to the fireworks, but somewhere along the way it was forgotten. No matter. Soon enough, the fireworks went off — and we were actually really close to the barge where they were setting them off. It was a long show (20 to 30 minutes or so) and both kids and adults seemed to enjoy themselves. About 3/4 of the way through, I figured I might as well try to see if my cameraphone would work and snapped a bunch of pictures. Unfortunately, most of them look like a boat exploding in the Bay: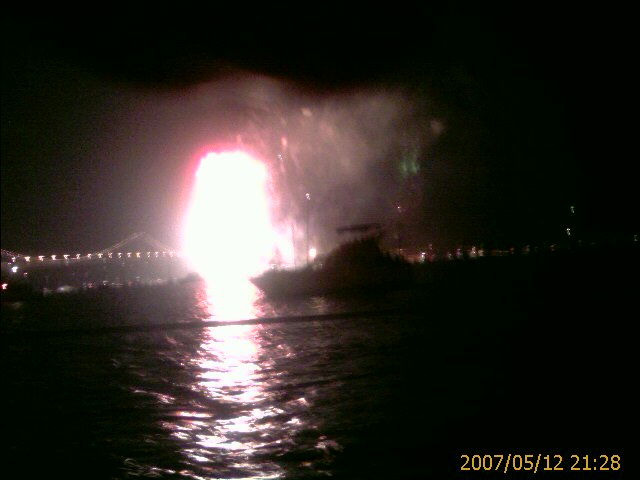 Oh well. I did get one that actually looks like fireworks: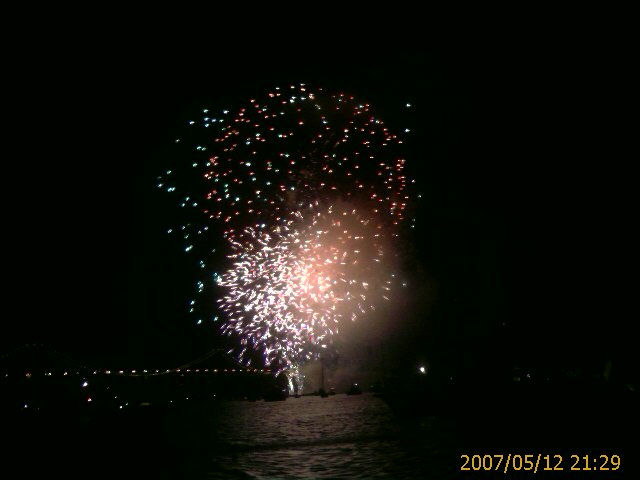 All in all, pretty cool. After the show, they turned the boat around and started to motor back, just as we had motored in, and we were all amazed at how nice it was out. Not too windy. Not too cold. Then, apparently, the sailors noticed that there was another sailboat nearby… and it had its sails up, rather than motoring. In an effort to defend their honor as sailors, they put up the sail, turned off the motor and away we went. We got to sail all the way back and it really was a lot of fun. As we got close to dock, Byung asked me if I would blog about this… so, what else could I do? All in all, it was a really fun experience, both the fireworks and getting to hang out on the boat. Hopefully we'll get to go again sometime.
Leave a Comment