So… I actually wrote most of this post in July of 2008, while I was traveling somewhere on a plane. It sat in a text file for all this time, because I was too lazy/busy to get the images. I figured, however, now that it's spring training (whoo hoo!!), I might as well finally get it posted. I did some editing on what I originally wrote so that it makes sense now — i.e., saying "last year" instead of "this year.")
As some of you probably know, I'm a pretty big Yankee fan from a pretty young age. I have no idea how/when it happened. I first started to become aware of baseball in the mid-1980s, at which point the Yankees were really bad. The Mets, on the other hand were at their best. But I just could never get into the Mets. I went to plenty of games at either stadium (more at Shea, because it was easier to get to), but definitely remember going to Yankee games as a kid.
Nowadays, I tend to see the Yankees when they're in Oakland (or on the rare occasion that they're in San Francisco to play the Giants). But last year was the final year that the "old" Yankee Stadium would exist, so when I realized I was going to be in New York in June, I figured it would be great to get one last game at the Stadium. I mentioned it to my Dad, and he bought some tickets for a nice father-son night at the game.
While the game was fun, perhaps even cooler was getting a chance to check out the neighborhood where my Dad grew up. I'd always known he grew up in the Bronx not far from Yankee stadium. I remember one time going to the game as a kid, as we were walking up the stairs beyond the left field bleachers he pointed out exactly where his apartment building was — but he also told us that his old neighborhood was "too dangerous" now to visit again, so I never thought I'd get to see it.
However, a few days before the game, he suggested we head to the game early and check out the old neighborhood, so that's what we did. We drove up to the Bronx nice and early, and I got a nice look at "the old neighborhood" he hadn't been to in 35 years. As with any childhood memory, he noted that everything was "a lot smaller" than he remembered. What amazed me was how close it really was to Yankee Stadium. It really is just blocks from the Stadium.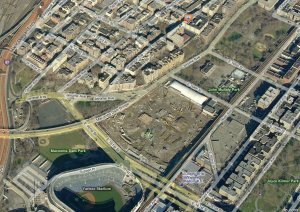 The little red box/arrow is where he lived. The stadium at the bottom is the "old" Yankee Stadium. The construction zone above it is where the "new" Yankee Stadium is today.
Perhaps the best moment, though, was as we drove down Jerome Ave., and my Dad pointed out the park where he used to play in, and said "and up here is where I used to play baseball in the sandlots…" and paused as he realized his old sandlot field is the
new
Yankee Stadium. While the new Stadium looks beautiful, I don't think my Dad is all that happy that his old sandlots have been replaced.
"Oh, this is awful."
"But, Dad, that means you've played baseball at Yankee Stadium."
He didn't seem to take much consolation in that fact.
Either way, it was a great experience getting to see his old neighborhood, and learn a little bit about his life growing up, from moving two doors down from one apartment to another, to the fact that his apartment had previously been a doctor's office (my Dad's bedroom was the former examination room).

If I remember correctly — and I'm doing this 8 months later — I think this is the one they moved to, and the one down the street is where he lived before. Dad, if this is wrong, let me know… :)
Then we got to walk around the Stadium a bit, and he pointed out where the players' entrance used to be (and the hotel where the players all used to live, back before they were all multi-millionaires). He said that as kids, all his friends would line up and get autographs, but that he was too shy. So… no Joe DiMaggio autographs to hand down…
And, oh yeah, the game was pretty fun as well. We had pretty good seats out towards right field. We got to see an A-Rod homerun, two Giambi homeruns, a nicely pitched game by Pettite, and a good old-fashioned blowout against the hapless San Diego Padres. All in all a fun father-son bonding experience. (later added: though, now as we enter the spring training of A-Roid, I'm realizing all three players I mentioned are now connected to performance enhancing drugs. Yay, baseball.)
I look forward to doing it again later this year at the new Yankee Stadium, so I can see where my Dad played baseball as a kid. And this time around, it looks like we'll be bringing a whole bunch of relatives along as well. Should be fun.